PREFABRICATED

Steel Arena

Structures
   Our steel is commercial grade.
   Our pricing is hard to beat!
   A+ on BBB and 5 star rating around the web.
   15 successful years of designing and building prefabricated steel structures.
Get A Free Quote Today
We would love to hear from you! Please fill out this form and we will get in touch with you shortly.
Why You Need A
Steel

Arena Structure
For Your Events
Whether you need an arena structure for riding or other events, you need a tough and long lasting solution that won't break the bank. While traditional arena structures built from wood or aluminum are potential options, there is another solution that is strong and cost effective, the steel arena structure. With both open and closed sided options, a steel arena structure holds a number of benefits for you, as the owner to enjoy for years to come. Just take a look at the list of amazing benefits of a steel arena structure below.
Why a steel arena structure?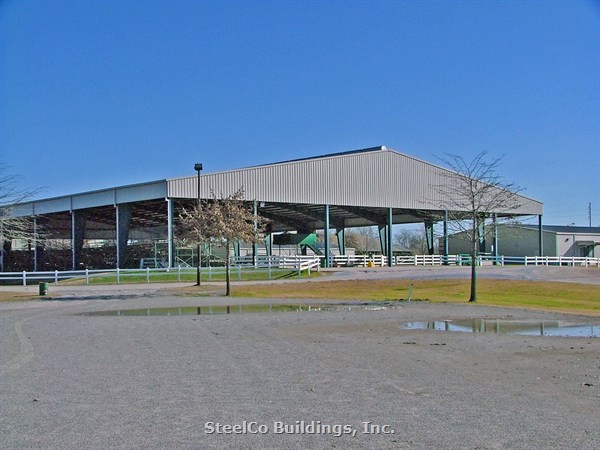 When compared to other structures, steel is strong. Additionally, steel will outlast most other materials commonly used in building. Are you worried about animal kicks and other events causing damage to your steel arena structure? Well, you would be with other materials, but not steel!
Are you in an area affected by extreme weather? In that case, a steel arena structure is the perfect choice! No longer will you need to worry about the integrity of your structure in the face of an ominous weather forecast! Have an event scheduled and the weather looks bad? No worries! The strength and integrity of your steel arena will allow you to host events when the sun isn't shining and you'll know that your animals, performers, and spectators will be safe and comfortable!
Worried about termites, rodents, and vermin? With a steel arena structure, you can put these worries to bed! You can be rest assured of years of dependable use out of your arena.
With any operation, two looming concerns are time and budget. With a steel arena structure from the team at Steelco, you can have a new structure set up and ready to use in weeks. No longer will you have to wait months…or even years for your arena to be ready for events. Oh, and those cost overruns typically associated with traditional construction? With a steel structure those are a thing of the past! You'll know what the cost is upfront and can more easily work it into your budget. Speaking of budget, our steel arena structures have shown time and again to have a low ongoing maintenance cost. So you can budget less for keeping the structure in top shape!
Is a steel arena structure right for you?
If you read the list above and found yourself nodding your head, then a steel arena structure is most likely the best option for your riding and other events. Not only are you getting a long lasting and safe arena structure, you are getting the years of experience from the team at Steelco. Have questions or want a free, no obligation price quote? Call us today!