PREFABRICATED

Steel Church

Buildings
   Our steel is commercial grade.
   Our pricing is hard to beat!
   A+ on BBB and 5 star rating around the web.
   15 successful years of designing and building prefabricated steel structures.
Get A Free Quote Today
We would love to hear from you! Please fill out this form and we will get in touch with you shortly.
How A
Steel

Building for Your Will Church Keep Your Community Happy, Comfortable, and Safe
You have an active and happy church community, your services are vibrant, heartfelt, and enjoyed by many. Don't you also want your parishioners to be comfortable and safe in your new facility? Yes, you can have a great facility when you opt to have one traditionally built. However, with the time and money involved, you stand the chance of holding your services at an alternate site longer, and having to worry about fundraising to cover the cost overruns. This isn't the case when you opt for a steel church building for your new facility. You will know the price up front and be able to get it set up quickly and back to what you do best, taking care of the community.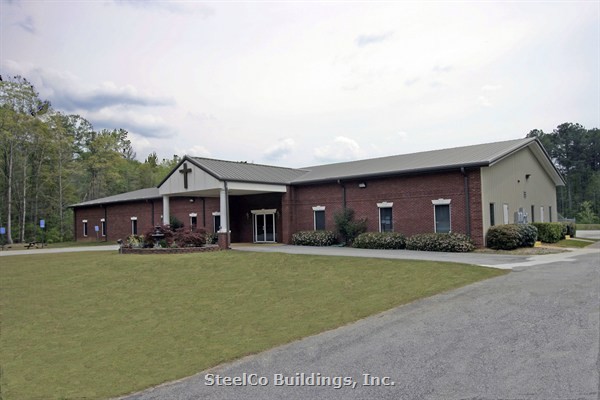 Our steel church buildings have been proven stronger than most commonly used construction materials. Additionally, there is a lower requirement for ongoing maintenance and upkeep than with traditionally built church structures.
A steel structure for your church will be resistant to nature's elements. Whether it's extreme weather, heat, or cold, your steel church structure will last! Want your community to congregate and worship in comfort? Our steel structures are insulation and HVAC friendly, so no matter what time of the year, you can maintain a comfortable environment!
Every church has to keep a close eye on the budget. With a steel building structure, you know your cost upfront. Imagine the ease of budgeting when you don't need to worry about cost or project creep. You can better use those funds to further the community!
Unlike months or years, your new steel church building can be set up and ready for use in a matter of weeks. Imagine the cost savings of not having to secure alternate locations for your church members to worship and help the community!
Is a steel structure right for your church?
We understand that you want to put a great deal of thought into your next facility, your community depends on it! That's why our experienced team is here to help you every step of the way. Have questions? Want a quick, no obligation quote? Just call us and we'll be here to help!