STEEL BUILDING DESIGN
SERVICES
   Our steel is commercial grade.
   Our pricing is hard to beat!
   A+ on BBB and 5 star rating around the web.
   15 successful years of designing and building prefabricated steel structures.
Get A Free Quote Today
We would love to hear from you! Please fill out this form and we will get in touch with you shortly.
Pre-Engineered

Steel Buildings

 
Overview
85% of all new commercial construction is being done with pre-engineered metal buildings.
STEELCO STANDARD FEATURES
Keyed alike/Ins W/Ds
Lifetime screws
25 year warranty
PBR Panels
Base trim
ACCESSORIES/UPGRADES
Walk doors
Roll-up doors
Insulation
Gutters and Downspouts
Wall lights
Skylights
Windows
Louver/fan combos
Cupolas
Liner Panels
Overhangs
Wainscots
Canopies
STANDARD PANEL PAINT SYSTEMS
Exterior painted roof and wall panels are precision roll formed from pre-painted galvanized or G alvalume® coils. The metal is first subjected to a strenuous cleaning process, followed by the application of oven-cured primer. Next the finish coat is applied under constant monitoring for proper cure temperature and color uniformity. Before panels are formed, the finished coil is subjected to strait quality control tests including: physical bend resistance, impact resistance; and film thickness, hardness, gloss and color. The standard paint system is an industry proven Silicone-Polyester coating. Silicone-Polyester is a recognized standard of product quality for exterior building systems. Painted colors are matched as closely as possible. Exact color match should be made from metal chip samples.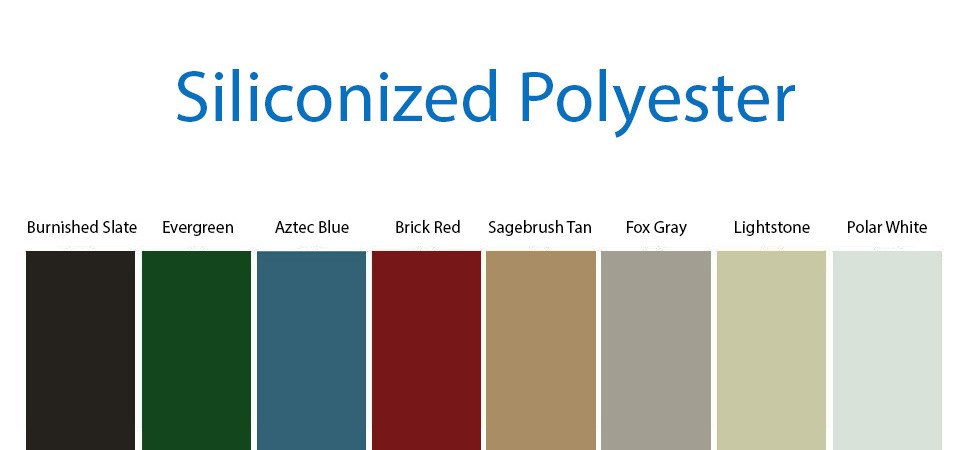 Metal Building
Color Options
Panels

"A" Wall Panel
The "A" Panel is great for a decorative look to wall designs.  Its clean exterior appearance is created by using recessed fasteners which are semi-concealed.

Roof/Wall Panel
This panel can be used for both a wall or roof panel and is commonly referred to as the PBR or screw down panel. This panel, commonly used for commercial, community and/or industrial applications, provides a strong but attractive panel.

Insulated Wall Panel
Although the Insulated Wall Panel is not the most common, it is however available upon request.  Insulated metal panels, while they can be more expensive than standard panels, offer more value to any building and give a higher quality appearance looking more consistent and clean. 

Reverse Wall Panel
The Reverse Panel has the capability of compressing up to 4 inches of insulation in the walls without causing bulges in the panel. This panel offers a rigid surface while semi-concealing the fasteners and allowing for a cleaner more appealing look.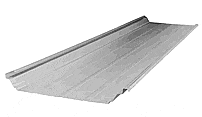 Standing Seam Roof Panel
The Standing Seam Panel requires a minimum slope of ¼":12 and is available in 22, 24 or 26 gauge with 24 being standard.  These panels can be either galvalume or painted.  This panel is ideal for architectural, industrial or commercial applications. 
Frame Styles
Lean-To
With common spans of 20 to 60 feet, the lean-to frame is attached to and is supported by a larger rigid frame.  The lean-to is much different from the single slope, in that it is supported on the high side by an adjoining building column.  It is recommended that a minimum of 1'-3" roof step be in place to add on a lean-to but is a very economical solution for expansions of existing buildings.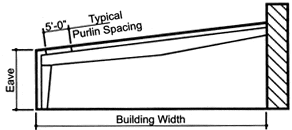 Modular Rigid Frame
Modular Rigid Frames can come in gable or single slope styles and assist with providing multiple spans over wider buildings.  Roof slopes are offered from ¼ to 4:12.  This frame style is very economical with spans of 30 to 80 feet and building widths of 60 feet to more than 300 feet.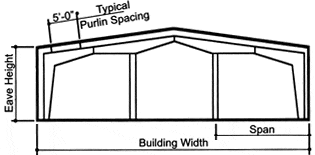 Rigid Frame / Clearspan / Gable
This frame is used in clearspan situations and can span from 40 to 250 feet without interior columns and can be used as gable or single slope.  This is how building clearance in the center is maximized.  A roof slope of ¼ to 6:12 is offered when using this frame.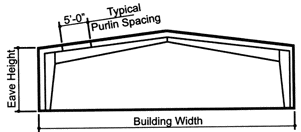 Single Slope Rigid Frame
Single Slope Rigid Frames are great for shopping centers or strip malls where there are drainage restrictions.  This style frame is also good for future expansions.  Due to the efficient use of tapered members and high strength steel, this frame is highly economical and maximizes the available clearance in a building.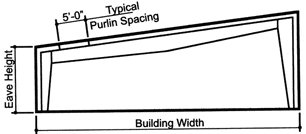 Tapered Beam
Tapered beams are excellent for buildings under 60'-70' in width and are designed for maximum efficiency of interior space as well as small crane support systems.  Interior finishes can be easily installed due to the straight columns provided.  Roof slopes are offered from ¼ to 1:12.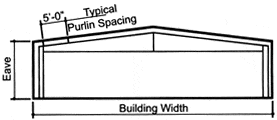 FAQs
Q: How long does it take to get my building?
A: Lead time vary, but typically 2 weeks of drawings and 6-8 weeks for delivery (depending on complexity)
Q: What are the benefits of steel construction?
A: All steel construction is built to last. These buildings are immune to termites. They are economical and can be constructed faster than wooden counterparts.
Q: Is this really a DIY project?
A: Yes. Our highly trained Sales Staff can walk you through every step of the erection process and can help with AB location all the way to completion.
Q: Who pulls the permits?
A: A permit would be pulled by you or a General Contractor of your choosing. However, we will provide you with engineered stamped drawings designed to meet all local, country and state codes.
Q: Can you send me a steel buildings buyer's guide?
A: Yes, we can e-mail it or CLICK HERE to see it.
Q:Why choose SteelCo Buildings?
A: At SteelCo, the customer is the first priority. We don't pull any gimmicks. We are veteran-owned and operated business, unmatched in customer service. We have over 65 combined years of metal building experience. We have been featured in Metal Construction News and were awarded the 2006 Dick James Small Business of the Year Award. We are also very reputable General Contractor and can answer your questions regarding any type of construction project. We care about your needs and value your business.