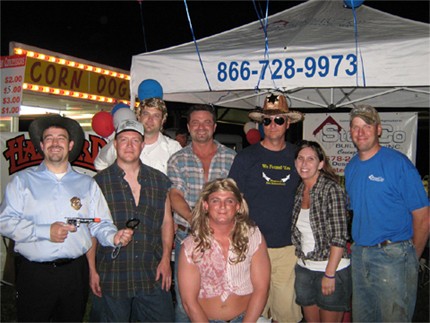 May 1st, 2009
SteelCo participated in Newton County's Relay for Life held at The Church of Covington April 24-25, 2009 with donations totaling $3,568.12 and all monies going to the American Cancer Society and Relay for Life. Although it was a warm (to say the least!) night, participation was 100% and the overall turn-out was bigger than the prior year.
The 2009 theme of this year event was "TV Shows" and SteelCo chose "Dukes of Hazzard". SteelCo employees came dressed as Bo & Luke Duke, Daisy, Uncle Jesse, Roscoe P. Coltrane, Crazy Cooter, Enos and special guest and Miss Relay Pageant contestant Daizy Dude Duke (Thanks to salesman Will George for taking one for the team). As in previous years, SteelCo partnered with Pittman Concessions and offered corn dogs, funnel cakes, cotton candy and more. All proceeds were given directly to Relay for Life that night. They were able to tie their "theme" of Dukes of Hazzard into the concessions and had their very own "Hazzard County Fair".
SteelCo President Shane Millwood said, "Everyone has been affected by cancer in some way or another, whether by a direct family member, a friend or co-worker. We really felt like we could make a difference." SteelCo won second place in their category. All in all, Relay for Life Newton County raised an astonishing total of $250,000.00 for the fight against cancer!
SteelCo is a local Design-Build General Contractor who specializes in commercial, agricultural and industrial buildings. SteelCo is also a nationwide steel building provider able to drop ship your next building anywhere you need it. They can be found on the web at www.steelcobuildings.net.