PREFABRICATED

METAL

BARN KITS
   Our steel is commercial grade.
   Our pricing is hard to beat!
   A+ on BBB and 5 star rating around the web.
   15 successful years of designing and building prefabricated steel structures.
Get A Free Quote Today
We would love to hear from you! Please fill out this form and we will get in touch with you shortly.
When you choose to purchase and use a metal barn kit, you are choosing a rugged and long lasting structure. The metal structure provides long lasting and sanitary benefits for your farming operation. When you choose a metal barn kit from the team at Steelco Buildings, you are not only getting a top quality structure at an affordable price, you are also getting years of support and assistance after the sale.
Why A Metal Barn Kit?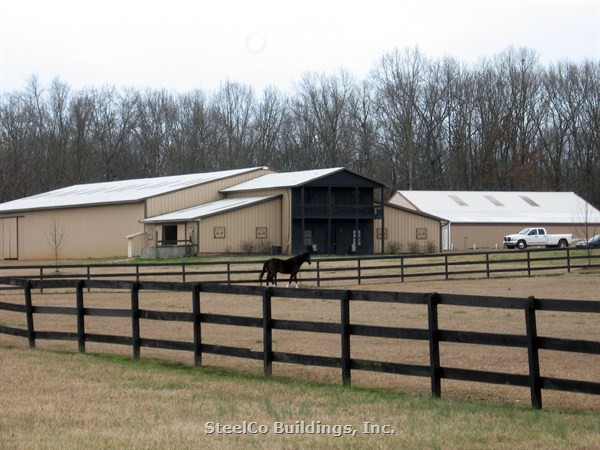 Not only are metal barn kits from Steelco tough and long lasting, they also carry the following benefits;
Strength

-Pound for pound, the materials used in the construction of our barn kits is one of the toughest materials out there. They are rated to withstand kicks from livestock, extreme temperatures, high winds, and extreme weather.

Flame and rodent resistant

-Unlike wood or other materials used in the construction of barns, the metal construction of a barn from Steelco is flame and fire resistant. In addition, it is resistant to rodent and bug infestations. You never have to worry about termites again!

Versatility

-Just because you put up a barn, doesn't mean it has to be used for livestock. Our metal barn structures can also be used for workshops, storage, meeting places, or anything else you may need dependable shelter for.

Fast and simple

-Unlike traditional barn structures, a pre manufactured metal barn structure can be delivered and erected in less time.

Environmentally friendly

-Statistics have shown that metal structures carry a smaller impact to the environment and can be easily recycled with less effort than other materials.
Points to Consider When Contemplating a Metal Barn Kit.
While the entire purchase and construction process is much easier than that of a traditional barn structure, there are a few points to consider;
Size

-What will you be using the structure for? If using it to house livestock, make sure that you choose a structure large enough to not only house your current stock, but also allow for expansion of your operation.

Climate

-Proper ventilation and insulation is crucial for the health of livestock. When contemplating purchase and construction of a metal barn kit, take into consideration of your local climate. Do you have frigid winters that require added insulation? Scorching summers that make increased ventilation crucial?

Site Preparation and Permitting

-Have you surveyed the site in which you would like your metal barn kit to be placed? Does your locality have any special requirements and/or considerations for structures of this type? What is the permitting process for your desired structure?
Depending on your individual site and desired use, there may be other factors to consider when planning the purchase and construction of a metal barn structure. When you work with the team at Steelco Buildings, you have years of experience at your disposal. Be sure to ask your sales representative about any possible concerns regarding your metal barn kit.