In 2016, Eastridge Community Church broke ground on its second Newton County campus. Founded in Covington in 1989, the church has grown exponentially since then and needed a new building that would serve the community of Jackson Lake. Located at 14200 Highway 36, the Jackson Lake Campus of Eastridge Community Church is right next door to Heard-Mixon Elementary School.
Metal Church and Worship Centers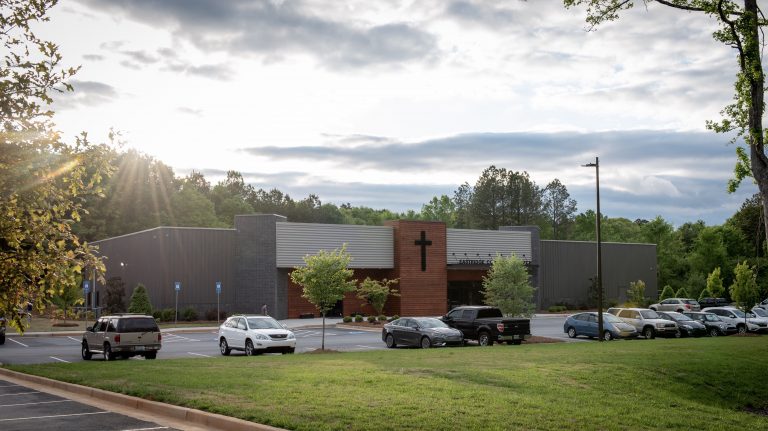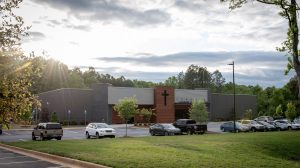 Today's churches need to be strong, spacious, and attractive to bring in new families. The Eastridge Community Church Jackson Lake Campus is a beautifully modern building that was constructed with a number of different mediums, including steel, stone, and wood. Ample parking accommodates the church's growing congregation, and two sets of doors make it easy to access the foyer. Recessed lighting, an offset logo and a smart, modern-looking black cross indicate that the Jackson Lake Campus is ready for worshipers young and old. SteelCo specializes in churches and worship centers and was proud to help the Newton County community build another place to practice their faith.
The Church Continues to Grow
Scott Moore, Pastor for Eastridge Community Church says to The Citizens, "Our overall plan is to create churches in every corner of every county that God places us in. That goes back to the Great Commission, which is to 'Go and make disciples of all the nations' — Matthew 28:19." He continues, "We love Newton County and want to reach every corner of the county. We have a campus on the east side and on the south side and we're praying about campuses on the north and west sides."
SteelCo Services
SteelCo offers two different options for churches and worship centers to build new centers in their communities. Churches can select custom design and build with traditional brick, modern steel, Early American wood, or European stucco like Eastridge Community Church did for their innovative new building. Or, houses of worship can select pre-engineered steel buildings in a multitude of frame designs that are crafted with the highest quality steel materials. This can be easier on a church's budget while still providing the space needed for a growing congregation.
Learn more about the Eastridge Community Church Jackson Lake Campus building and how SteelCo can help you accommodate your church growth by contacting us. Call now for more information at 1-866-248-4928.